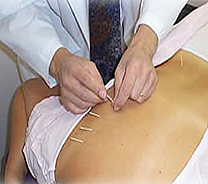 Neural pathways pass close to the skin at more than 1,000 points on the body.  Acupuncture is the art of applying precise stimulation to these points to induce a release of chemical neuro-peptides.  These tiny proteins command the body's self-regulating systems, activate the immune system, and dampen pain.  Acupuncture activates these systems and forces the body into rapid self-healing mode.
What Can Acupuncture Help?
Acupuncture helps a long list of conditions including but not limited to:
Chronic and hard-to-diagnose illnesses
Immune deficiency
Over-taxed nervous systems
Stress
Pain
Emotional conditions
Addiction
Headaches
Arthritis
Digestive disorders
Acupuncture is covered by many extended health care plans.
Book an appointment with Dr. Lindy Harb, a Naturopathic Doctor serving Niagara Region.